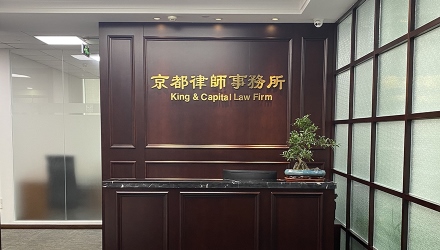 The King & Capital Nanjing branch was officially established on January 11, 2018. It is the fifth branch established by the King & Capital Law Firm nationwide. King & Capital Nanjing branch adopts the method of direct operation, direct management, and direct investment from the King & Capital head office, and implements a unique management system of lawyer pool, business collection, and salary lawyer allocation in proportion. Now it has established many business departments, such as criminal business department, civil and commercial business department, family business department and legal service center.
In addition, the King & Capital Nanjing branch actively participates in the construction of the rule of law, co-sponsored the establishment of the "Criminal and Civilian Integration Judicial Research Center" with the Nanjing Normal University Law School and the King & Capital head office to build an academic highland for criminal and civilian judicial research and a platform for the transformation of research results. They are committed to provide intellectual support for state agencies, enterprises and institutions, scientific research and educational institutions, social organizations, and individuals, train professionals, explore reform paths, undertake research on topics and resolve disputes, and effectively promote the governance and resolutions of the cross-social issues concerning criminal and civil areas.
There are nearly 20 lawyers in King & Capital Nanjing branch, all of whom graduated from well-known domestic political and law colleges and have master's degree or above with a solid professional theoretical foundation.In terms of working experience, many partners and salary lawyers have worked in public security organs, procuratorates, people's courts and enterprises.They have rich legal practice experience, mostly serve as perennial legal counsel in domestic and foreign financial institutions, national ministries and commissions, local governments at all levels, domestic and foreign enterprises and institutions and provide professional legal services to clients in business areas such as banking, insurance, futures, asset securitization and structured financing, corporate restructuring, bankruptcy and liquidation, company mergers and acquisitions, securities and listings, foreign investment, international trade, real estate and infrastructure construction, labor relations , and domestic and overseas litigation and arbitration.
Expand
Contact information
Address:

Suite 4004, SunnyWorld Center, No. 188 Lushan Rd.,
Jianye District, Nanjing, 210019
Zip code:

210019
Number:

025-8523 1119
E-mail:

nanjing@king-capital.com