Lawyer Catherine GUO shortlisted on the LEGALBAND 2021 Top 15 Litigators List
On June 1st 2021,renowned legal appraisal institution LEGALBAND announced its"2021 Power List:Top 15 Litigators".Catherine GUO,senior partner at King&Capital Law Firm,was successfully shortlisted on the strength of her excellent reputation among clients and peers,as well as outstanding market performance.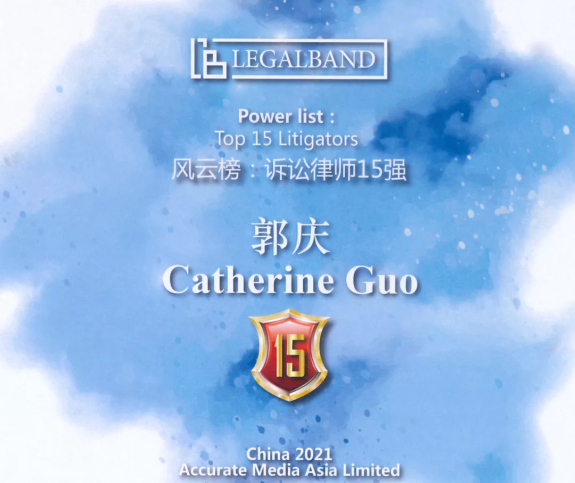 Catherine GUO selected on the"2021 Power List:Top 15 Litigators"

Catherine GUO has achieved phenomenal results in the fields of civil and commercial dispute resolution and foreign criminal litigation.She has always upheld her clients'interests to the utmost,with many of her litigation cases being of extremely high reference value in the industry.

Catherine GUO recently handled the copyright infringement case involving COL Publishing,being the most hugely influential case of online copyright infringement solved by Beijing Municipal PSB in recent years involving the most offenders and the most infringing works.The case was simultaneously included in the"'Ten Classic Cases'of Judicial IPR Protection by Beijing Courts in 2020"and"Classic Cases of IPR Protection by Beijing Municipal Prosecutorial Organs in 2020".It has also been included by the China National Intellectual Property Administration as one of the"Ten Major Cases of Cracking Down on Piracy in 2020".When commenting on Catherine GUO and her team the client stated:"COL(stock code 300364)was founded in Tsinghua University in 2000.It is committed to becoming a world-class cultural and educational group with its mission'Moving Culture Forward'.In January 2015,COL successfully landed on the GEM of Shenzhen Stock Exchange and became the'first digital publishing stock'in China.Our company's legal affairs team regularly collaborates with external lawyers,and we see an outstanding partner in Catherine GUO and her team.Catherine is professional and highly efficient,always able to immediately grasp the clients'innate.In handling our company's case,she had a holistic view of the situation,acted flexibly and cautiously,and protected our company's legitimate rights and interests to the utmost."

Additionally,Catherine has also handled the world's first case of"autonomous driving"causing death.Given that the case involved new technologies such as autonomous driving and AI,it received widespread attention from all sectors of society.

Catherine worked at Xinhua News and the CCTV media centre.In 2003,she passed the National Judicial Examination and became a professional lawyer.In 2010,following commendation by the All China Lawyers Association and the British Bar Association,she went to the United Kingdom to participate in the 10-month"British Justice's Office-China Young Lawyer Training Program".During this program,she was personally mentored by many former Queen's Counsels.She consults for international IGO's and several of the world's top 500 multinational companies.Catherine has undertaken a large number of major,complex civil and commercial litigation cases,widely praised by customers for her excellent skills at trial,ability to negotiate and persuasion.Catherine is particularly apt at dealing with quality disputes related to car products,having once led a team in handling more than 200 instances of dispute resolution involving a renowned German carmaker.In May 2021,she was appointed chief legal advisor to the CBOs from China Auto Brand Top 20,or CB20.

LEGALBRAND is an international legal appraisal institution belonging to AccurateMedia headquartered in Hong Kong and with on-site research teams on the mainland China.Through client visits,phone calls and questionnaires,it publishes a variety of legal rating reports annually with the aim of becoming the most influential and credible legal rating brand in the Chinese market and providing an authoritative guide to the selection and recruitment of law firms and lawyers by clients.