Tianjin DRC Fined USD 6.5m against Local Container Yard Cartel
Released on:2019-01-04
Author:Jin Yi,Wang Lingling
Background
On 27 November 2018, China's State Administration for Market Regulation (SAMR) published a penalty decision notice (theSAMR Notice) against a Tianjin local container yard cartel (theTianjin Container Yard Cartelcase) penalized by Tianjin Municipal Development and Reform Commission (Tianjin DRC) on its website. The SAMR Notice consists of 17 independent administrative decisions rendered by Tianjin DRC on 16 November. One of the 17 decisions was a full immunity while the other 16 are penalty decisions, the total penalties for Tianjin Container Yard Cartel up to CNY 45.1m (USD 6.5m). Notably, Tianjin DRC found 27 companies involved incartel conduct, due to the change of the shareholder(s), non-existence or non-operation of 10 companies, the agency found 17 existing companies liable for the cartel practice, according toJin Wan Bao's report.
After rigorous investigation, Tianjin DRC found that since 2010, the 27 container yard operators held discussions on increasing or adjusting the container handling comprehensive surcharges and the unloading fees through various proposals, gatherings, phone calls and e-mails. Consequently, a relatively stable price alliance was formed and the price level of the comprehensive surcharges and the unloading fees had been adjusted jointly and continuously. Tianjin DRC believed the conduct of the container yard operators concerned amounted to a collusion regarding price fixing and hindered market competition, therefore was in breach of the first paragraph of the Article 13 of theAnti-monopoly Law of the People's Republic of China (AML).
Penalties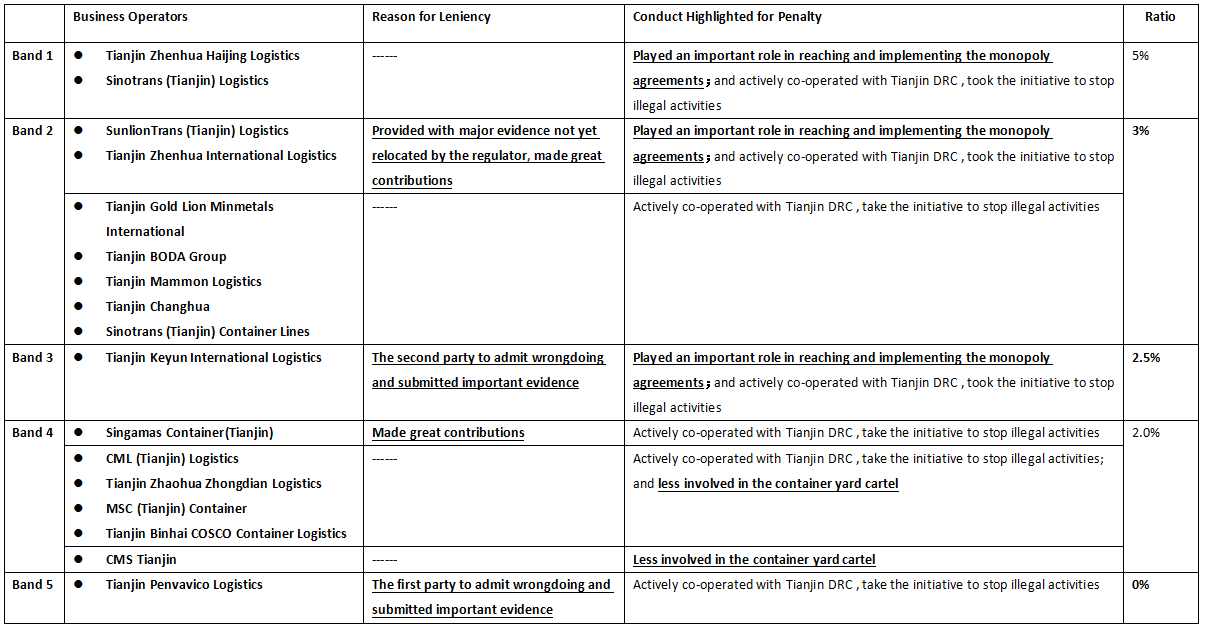 Table 1: Details on Fine-settings
Comments
I. Encouragement of Co-operation and Leniency Applicant
Regarding the leniency program in China, National Development and Reform Commission(NDRC) and State Administration for Industry and Commerce (SAIC) issued rules and regulations at department level prior to the consolidationofthe antitrust agencies, however their rules and regulations are not identical.Meanwhile, the draftingGuidelines for the Application of Leniency Program to Horizontal Monopoly Agreement Cases(theLeniency Guideline) further provided the circumstance where and how a total immunity of fine and a reduction of fine shall be applied in adopting the leniency policy (referring to Table 2 below).

Table 2: Reduction of Fine under the Leniency Guideline
As revealed byTianjin Daily,the first-in and the second applicants reported their wrongdoings voluntarily before Tianjin DRC's formal opening of the antitrust investigation. In determine of the immunity and the reduction of fine, Tianjin DRC had taken the following factors into account,
Firstly,Tianjin Penvavico Logisticswas granteda total immunity as it was the first-in applicant to admit its wrongdoing and further provided significant evidence among cartel participants.
Secondly, the agency believed where a business operator had played an important role in reaching and implementing the monopoly agreements, it would lead to a serious offence; as toother participants,the conduct would be considered as a general offence. In particular,in Tianjin Container Yard Cartelcase, Tianjin DRC imposedTianjin ZhenhuaHaijing Logistics andSinotrans (Tianjin) Logisticswith a fine accounting for 5%of their respectiverevenues in previous year,forboth of them had actively co-operated with Tianjin DRC, and had taken the initiative to stop illegal activities, regardless their serious offence committed .With respect toTianjin Keyun International Logistics,regardless its serious offence committed, by voluntarily reporting its wrongdoings as the second applicant, and further providing important evidence, it obtained a 50%-off reduction of fine accounting for2.5%of its revenue in previous year in return.
Thirdly, in addition toTianjin Penvavico Logistics andTianjin Keyun International Logistics, Tianjin DRC further granted certain level of reduction of fine to another three companies, i.e. SunlionTrans (Tianjin) Logistics,Singamas Container(Tianjin)and Tianjin ZhenhuaInternational Logistics,due to their submissions of major evidence not yet relocated by the regulator, and their great contributions to the antitrust probe. Article 12 of the Leniency Guideline provides that in general, the antitrust agency is entitled to grant leniency to three business operators at most in a single cartel case. If the case is significant and complex with numerous business operators involved, and business operators that apply for leniency program do provide important evidence different from others, the antitrust agency is entitled to grant leniency to more business operators at its discretion.
In conclusion, the adoption of leniency policy inTianjin Container Yard Cartel case was in line with the principle underthe Leniency Guideline.Moreover, according to a detailed report on the Container Yard Cartel byTianjin Daily, cited an official from the Tianjin DRC, a business operator under the antitrust probe would benefit from the following: i) taking the initiative to reach and communicate with the agency, ii) adopting various measures simultaneously as to enhance the efficiency and quality of product or service, iii) stopping charging the unreasonable fees and making the price transparent, iv)recovering the loss of competition by improving the service quality etc. in a timely manner.Tianjin Container Yard Cartelcase sent strong signalthatthe antitrust agency would like to adoptthe leniency regime flexible, and the agency generally welcome leniency applicants.
II. Trade Related Logistics Sectors Remain under the Spotlight
In recent years, China's antitrust agencies have launched investigations into various shipping and maritime related sectors, including probes against roll-on/roll-off shipping, container shipping and ports. Since 2017, the NDRC opened a large-scale antitrust investigation into ports aiming at reducing the logistics cost in import and export. On 25 April 2017,the NDRC, the Ministry of Finance, MIIT and Ministry of Civil Affairs jointly issued the Notice on Cleaning Up and Regulating the Enterprise-related Service Fees, underling the efforts to regulate the prices in relation with the import and export through antitrust investigations against abuse of dominance. On 23 May 2018, SAMR issuedthe Notice on Launching Nationwide Inspections on Enterprise-related Service Fees, underling the logistics related sector, in particular railways, ports, highways as their priorities. In June 2018, SAMR published its first penalty decision, which was againstfourtugboat companies for price-fixing. In July, SAMR fined two Shenzhen tally companies over monopoly agreements. Meanwhile, as being observed from the website of Tianjin DRC, the most recent penalties were also against ports service fees. We therefore believe, logistics sectors, such as freight forwarding, warehouse etc.,are highly likely to becaught under the up-coming law enforcement. For other areas in logistics sector, such as aviation, railway, highway may be the targets of the investigations as well. It is suggested that companies in logistics related sectors to launch self-inspection, correct illegal conducts and carry out rectification with theassistance ofantitrust counsels.
III. Getting Prepared for More Joint Law Enforcement
Firstly, with respect to the initiation of the antitrust investigation, as revealed byTianjin Daily, the Container Yard Cartel was exposed during a regular price inspection by Tianjin DRC, by further relocating significant evidence to the cartel practice, Tianjin DRC took initiative to open a formal antitrust investigation. While in the early ages, the major source for antitrust cases were the complaints raised by the competitor(s) or by third party(s). Secondly,with the consolidation of functions and personnel of three original antitrust agencies early this year, the newly established SAMRwould largely benefit from the synergy, provide benchmark to law enforcement, and improve the efficiency. Moving forward,it is expected thatmore antitrust investigationswould be emerged from the investigations against the illegal behaviors under price law, advertisement law and anti-unfair competition law. Therefore, it is suggested companies should be watchful in the first place when the inspectors arrive, as the investigation may be led into fields other than those being claimed at beginning.