King & Capital Law Firm Joins China Culture & Entertainment Industry Association
In May 2021,King&Capital Law Firm formally joined the China Culture&Entertainment Industry Association as a member institution.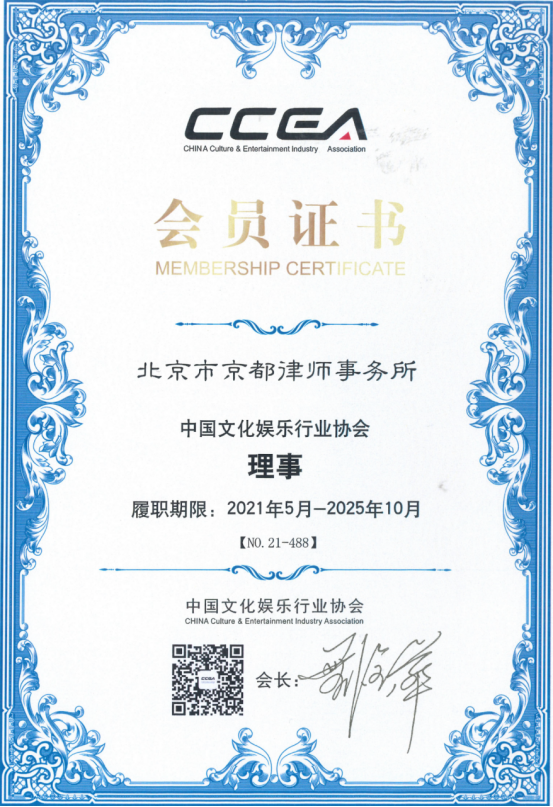 Membership certificate of the China Culture&Entertainment Industry Association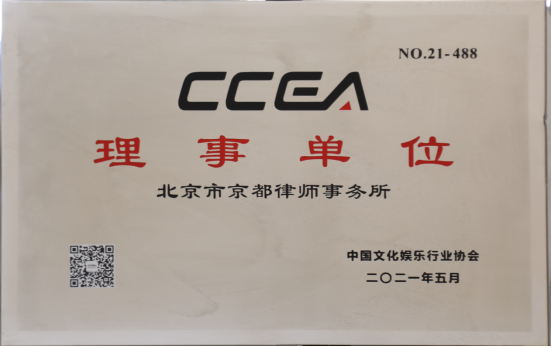 Member institution of the China Culture&Entertainment Industry Association

In recent years,China's culture and entertainment industry has seen remarkably rapid growth,accompanied by a concomitant strengthening of culture and entertainment companies.Meanwhile,relevant laws,regulations and policy requirements have been promptly improved.Despite increasing supervision of culture and entertainment companies,legal problems have frequently reared their head with the industry's explosive growth.They cover many types of risk across a variety of legal fields,and cover complex,ever-changing problems.Legal risk control and prevention in the culture and entertainment industry therefore warrants close attention.

The culture and entertainment legal services team at King&Capital Law Firm closely follows legal news in the industry,acting as legal advisers on retainer to many artists and their companies.It handles litigation and non-litigation services involving the production and broadcasting of movies,TV series and musicals,the holding of concerts,as well as the new-media operations.Through the above,the team has developed a professional talent for IPR protection in the culture and media industries.The team boasts a wealth of case-handling experience,honed through their handling of artist agency,endorsements,publications,authorizations and all types of media cooperation and contracts.By joining the China Culture&Entertainment Industry Association,the team aims to strengthen the provision of legal opinion in the culture and entertainment industry,provide targeted and professional legal services for a wide range of clients,aid in the industry's healthy and scientific development as well as uphold the legitimate rights and interests of relevant institutions and personnel.King&Capital Law Firm will strengthen exchange and cooperation with all industries;probe potential legal issues in the industry through a broad,long-term lens;and provide comprehensive,professional legal services for all sectors in the industry.

Established in 1995 as one of the earliest partnership law firms in China(special common partnership),King&Capital Law Firm has always placed the client's needs at the forefront with its firm motto"strive to excel and prove ourselves worthy of trust".We have grown to become a leading large-scale comprehensive law firm in China and Asia,as well as one of the"law firms most trusted by clients".

The China Culture&Entertainment Industry Association is a national first-class association registered with the Ministry of Civil Affairs,overseen by the Ministry of Culture and supported by the Ministry of Public Security.Founding members include more than one hundred most representative cultural institutions such as Wanda Cultural Industry Group,Xiaomi,Tencent,Net Ease,Sohu,Lenovo,Windsor KTV,Haoledi KTV,Shiyu,Sealy Tec,Super Player,Thunder KTV and eVideo,and provincial and municipal industry associations,covering many fields on the culture and entertainment industrial chain such as KTVs,gaming parlors,online games,mobile games,family entertainment,outdoor amusement parks,exhibitions and technical services for culture and entertainment.Under the guidance of relevant government departments,the Association upholds the overall interests of the industry and consumers,further regulates order for culture and entertainment market and promotes its healthy,stable development.