Latest Results
Director of King and Capital Tian Wenchang Attends Fifth Round of China-US Legal Experts Dialogue
Time:2012-05-11
Source:
The Author:Tian Wenchang
Browse:
Print
Font Size:T|T
The Fifth China-US Legal Experts Dialogue took place from April 24-25, 2012, in Diaoyutai State Guesthouse, Beijing. Tian Wenchang, Director of King and Capital, attended the meeting in his capacity as Director of the Criminal Defense Committee of the Chinese Lawyers' Association.
China and U.S. legal experts exchanged views on various topics including sentencing policy, the role of lawyers, legal aid, counter-terrorism and human rights.
Tian Wenchan delivered a keynote speech on the topic of "the Role of Lawyers" at the meeting.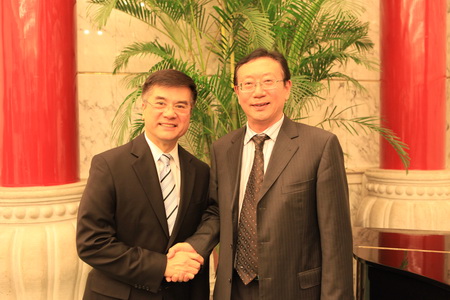 Gary Locke, U.S. Ambassador to China (left), with Tian Wenchang, Director of King and Capital, at the meeting