Latest Results
King and Capital Signs a Strategic Cooperation Agreement with Yunnan Provincial Government Finance Office
Time:2012-05-22
Source:
The Author:Li Jiquan
Browse:
Print
Font Size:T|T
On April 21, 2012, King and Capital Signed a comprehensive strategic cooperation agreement with Yunnan Provincial Government Finance Office to provide legal services to financial and other companies in the province aimed at transforming the province into a financial bridgehead.
The key points are: King and Capital will be the strategic cooperation partner of Yunnan Provincial Government Finance Office in the field of financing projects, operation of listed and other enterprises, initial public offerings, non-public financing, legal risk prevention and control, shareholding structure design, mergers and acquisitions and due diligence.
The agreement was signed at a forum entitled "Boosting Funds to Enter Yunnan, Promoting Financial Co-operation, and Assisting Building National Important Financial Bridgehead in Yunnan Province" held in Beijing. Officials, scholars, entrepreneurs and professionals from more than 200 institutions, including Finance Office of the State Council, China Securities Regulatory Commission, China Banking Regulatory Commission, banks, financial institutions, well-known investment institutions and chambers of commerce in Yunnan Province, attended the meeting.
Li Jiquan, partner of King and Capital, delivered a keynote speech on behalf of King and Capital at the meeting. He said that King and Capital was committed to providing strong legal support to companies in Yunnan to enable them to develop and protect their interests.
At the meeting, Yunnan Provincial Government Finance Office also signed cooperation agreements with Pricewaterhouse Coopers and CITIC Industrial Fund. King and Capital was the sole legal organization represented.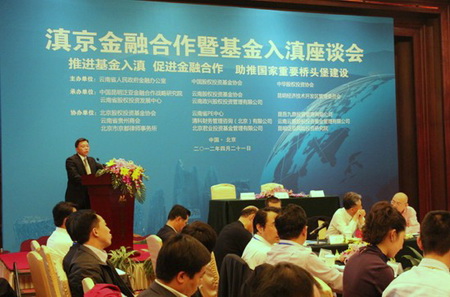 Li Jiquan Delivers a Keynote Speech at the Forum on Behalf of King and Capital.